Mountain Biking &Pump Track 31 May 2007 12:55 pm
What an epic week I had at WTB's headquarters in Mill Valley, CA located under the shadow of Mt Tamalpais "where it all started." It was huge amounts of two of my favorite bike-related things; Great singletrack & lots of cool new products unveiled (I am a confirmed parts geek with a special weakness for tires – just ask anyone who has had the experience of seeing any of my various..lets call them "storage depots." "Garage" is really not the right descriptive term after I've had some time put in there.
I was very impressed with the whole new Prowler line of tires but the 2 that I'm most drawn to are the Prowler MX and the newest, the Prowler SX, which I think is going to be a very fast rolling tire that will find a home soon on the back end of my V-10. Kevlar bead & mid-weight casing…it's still pre-production so I don't know what the production weight will end up at but the one I've got is probably around 1100gm. More & more 29′er options too.
Somehow I want to convey how much everybody at WTB rides, what skilled and dedicated cyclists they are, how they ride everything from DH bikes to road bikes, and how they just love bikes…without calling them "serious riders." They ride a lot,..they ride strong…They ride their bikes to work a lot…and they have a lot of fun & don't take themselves too seriously.
And they pretty much rode me into the ground over the course of three days, showing me, and all the other Distributor reps that were there, the best trails in Marin county. WTB's Tom Delacy & Dain Zaffke took turns being the rabbit & I, of course, was the good hound & kept following as close as I could. Now I understand why Mt. Tam & Marin county are the birth place of mtn biking. Lot's of twisty flowy singletrack that makes the most of a given mountain slope. Great views too. Special thanks go out to Dain Zaffke for shifting my paradigm about the Marin trails.
I think the highlight of the whole event though was getting to ride Mark Weir's pump track "the Peacock Pit" (which I think was originally started by Mark as an attempt to bury his inner demons. It has now evolved into something that looks like an archaeological dig to unearth a Chinese dragon). It is amazing, and if it keeps growing at this rate, by March 23rd it will officially be the 8th wonder of the world (which is visible from satellite imagery) 38 05′ 34.84″ N 122 36′ 00. 17″ W.
It started out as a reasonable size oval dubbed "Old Blue" which indeed has a blue groove (the remains of approximately 300 worn out Nanoraptors I'd guess) around most of the berms. And then the upper section under the trees got added in. And Finally still under construction, but almost done, are the G-out berms which are a series of near vertical-walled berms linked together like that snake on a cross that every medical facility has as it's symbol somewhere – the red cross symbol.
I could never find the flow through those berms but I saw Mark pull about 3 Gee's through them, in what looked like a "Mission Impossible," maneuver so I know it's not the berm's fault. Imagine a berm so tight & high walled that when you dive into it your head literally stays in one place and your bike & body rotate around your head. I ruined myself at the peacock pit…It was awesome. There are so many possible lines there and so much flow. I saw Blind Bobby McMullen ride it better than some people who have sight, and the Peacocks will chime in every time someone else gives a shout out too. When you get too tired you can sit up on the stage & watch everybody from the lurkers' lounge.
I've come back to Ashland with the dream of converting all the unused piles of dirt & space down at the jump park into a big flowing pump track! Anyone wanna help? We'll have to wait until we get some rain again though.
Cheers,
Nathan
Mountain Biking &Pump Track 15 May 2007 06:08 pm
I'm heading down to Navato, CA for a WTB event and to try out Mark Weir's Pump Track.
Here is a description of Mark's Pump Track:
After climbing over 1-million vertical feet in 2005, Mark Weir discovered a new passion in the comfort of his backyard, a.k.a. "The Peacock Pit." Why is it the called the Peacock Pit? Because there are peacocks there. And what do they have to do with the pump track? Nothing, other than they're slowly getting squeezed out like deer in the 'burbs as this thing, "grows like a wart, blister after blister."
Here are a couple of links to videos of the Peacock Pit:
From Fox Racing Shox
Video of Ryan Beavis riding The Peacock Pit shows speed
Peacock Pit BBQ in 2004
Want to read even more about Pump Tracks? Here is a great post on Marla Streb's Blog about Pumping at…where else…The Peacock Pit.
Cheers, Nathan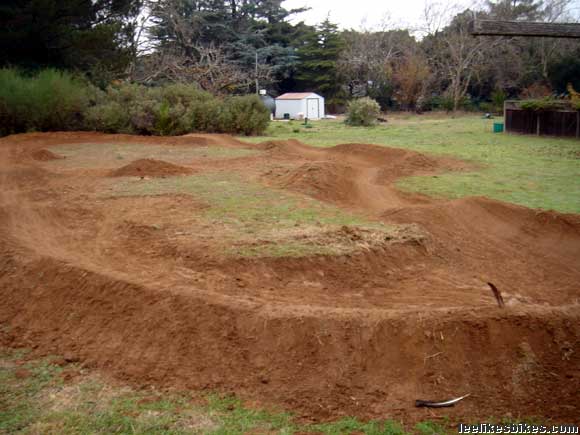 Downhill Racing &Mountain Biking 11 May 2007 09:53 am
Article on Team Motion Based Blog
by Olivier Bock
"…While Mark Weir (WTB) muscled his Nomad up the climb, a different sort of rider was making good time, it was Mark's teammate and local racer Nathan Riddle. Riddle was racing on his "townie" with fenders, skinny tires, sneakers, and a cup holder on the bars… and he was Ripping. Although Nathan flatted on the descent (where I watched him launch through the rock gardens), he came back the next day to win the DH."
Click here to read entire article
Downhill Racing &Mountain Biking &Training 09 May 2007 04:52 pm
Searching for the perfect line: Downhill mountain bikers combine strength and speed on a rugged course to prepare for this weekend's Spring Thaw races near Ashland
Nathan Riddle goes fast where most of us would crawl if we went at all.
Riddle races his mountain bike down steep, rock-studded, tree-lined trails. He pedals hard for extra speed where others would be grabbing the brakes — places where a wrong move could send him headlong over the handlebars toward unforgiving rocks and trees.
"Practicing a course is key," the Ashland rider says. "Memorizing the corners, and what kind of dirt's in each corner. I have certain courses locked in my memory."
He'll certainly have Mount Ashland's Catwalk Trail etched in his brain by Sunday, when he'll be racing against the clock and dozens of other riders during the annual Spring Thaw Mountain Bike Festival.
The 17th annual Spring Thaw begins Saturday with a 24-mile cross-country race on a course that mixes gravel roads and forest trails. The course begins and ends in Lithia Park, but there's nearly 4,000 feet of elevation gain along the way, so riders have to learn to pace themselves for at least two hours of cycling.
With hundreds of riders spread out along the course, little one-on-one races often develop during the race, says Eric Teel, secretary of the Southern Oregon Mountain Bike Association, which organizes the races.
"It's you against somebody else," Teel says. "It's easy to lose motivation if there's not somebody out there in front of you that you're trying to catch."
Sunday's downhill race is another breed entirely. Riders descend the course one at a time against the clock, rather like a downhill ski competition. Spectators gather to watch along the turns, where races are won — and lost.
"The big differences in performance come in how fast you can take the corners," Riddle says.
Racers are dispatched down the course every 60 seconds, so there's plenty of action for spectators to enjoy.
"Every minute for four or five hours, there's another racer coming by," Teel says. "They will easily hit 40 mph on a narrow trail full of rocks and bumps and everything else. It's just insane."
The fastest downhill racers cover the 1.7-mile course in less than five minutes.
"You've got one chance to do your best," says Riddle, whose time of 4 minutes, 23 seconds and change was good for second place in the 2006 downhill. "Every time you come out of a turn you're pedaling as fast as you can."
Riders spend hours on a course before a race, looking for the path that will take them through each turn at maximum speed.
"You practice over and over again to hit the right line," says Becca Margulies, an Ashland High School junior who will ride the downhill race. "You want to be smooth and avoid the biggest bumps you can and find the quickest way down.
"Smooth comes from finding the right line," Margulies explains. "You feel it more than you see it visually. You'll run a section and it just doesn't feel right."
Specially designed equipment helps downhill racers go fast. The bikes are built with heavy frames to survive the impact of 40-foot jumps and 10-foot drops. The wheels have thick steel rims, and the wide tires are covered with fat lugs to provide maximum traction. Front and rear shock absorbers can have as much as 10 inches of up-and-down travel. Disc brakes give riders the ability to stop quickly or feather the brakes independently.
All the beefed-up features produce a bike that's much heavier than the typical cross-country racer. A fully equipped downhill racing bike weighs in well over 35 pounds — almost twice as heavy as ordinary mountain bikes.
Given the hazards, all riders wear helmets and safety equipment. Many compete in body armor — hard plastic shin and arm guards, chest protectors with joints that let them flex and twist to keep their balance at speed.
Sometimes the protective gear isn't enough. Margulies has broken her collar bone; Riddle, the bones in his forearm.
"It is scary sometimes," Margulies said. "You have to be focused. You just have to be able to make yourself do it."